Toobers on the Guadalupe River
This 24-mile section of the Guadalupe River in Comal County is considered one of the finest white-water stretches in the State. The river is scenic, with limestone bluffs, baldcypress, pecan, elm and other vegetation lining the banks. The river area presently is being subjected to intense development, with many subdivisions and fishing camps becoming evident. However, many natural areas can still be found. The flow of the river is largely controlled by water releases from Canyon Dam. Good conditions for recreational use are at all levels between 50 and 1000 cubic feet per second (CFS).
However, the most pleasurable conditions are available when the flow is between 450 and 750 CFS. The water is very cold and clear since it come directly form the bottom of Canyon Reservoir.
Several low water dams located on this stretch are hazardous to recreationists. A major waterfall Slumber Falls is passable if extreme caution is exercised.
| | |
| --- | --- |
| | |
| Toobers on the Guadalupe River | |
The remaining potential hazards are the low water road crossings and the many rapids which span the river. Some of the better rapids which can be hazards to recreationists are the Boulder Rapid, the Hueco Springs Rapid, and the Rock Falls Rapid. Beyond the hazards and rapids mentioned, the remainder of the river is serene and placid. The river flows gently past limestone bluffs and baldcypress-lined banks.
Flowing southeast and joining the Guadalupe River at New Braunfels is the Comal River which has its source in the hilly, large Comal Springs within the city. The Comal is the shortest river in Texas, being only two and one-half miles in length and having an average flow of 330 cubic feet per second. This flow adds significantly to the flow of the Guadalupe.
Of particular interest to the recreationist are the many fishing and swimming camps, Landa Park, and the textile industry in New Braunfels. A small dam and several small spillways requiring portages are located along the river. Flowing over smooth limestone beds with numerous small rapid areas, the Comal is open for recreational usage year-round with the spring and summer months being highly utilized. Additional waterway features on the Guadalupe and distance between each are as follows: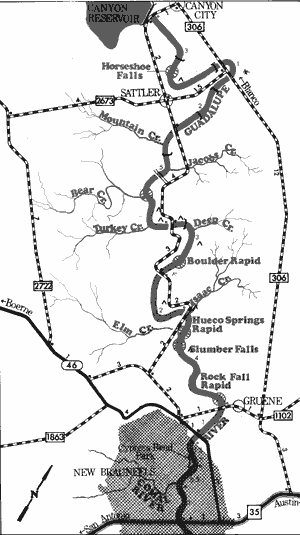 Corps of Engineers park - immediately below Canyon Dam. A road to the left of a hill takes cars down to the river just below the spillway.

Private camp - off FM 306, 2 miles southeast of Canyon City. (2 miles)

FM 306 crossing - 2 miles east of Canyon City. The high bridge provides poor access. (1 mile)

Private camp - 3 miles east of Canyon City off FM 306. Facilities are available for camping and picnicking and about 2 miles of shoreline provide access. (0.5 mile)

FM 306 crossing - 3 miles east of Canyon City. The high bridge provides poor access. (0.5 mile)

River Road crossing - county road crossing, off FM 2673. (2 miles)

Private road crossing - 2 miles south of Sattler. No access is available unless permission is obtained to use the road. (1 mile)

Private camp - 4 miles south of Sattler on the river road. Approximately 1 mile of shoreline is available, and camping and picnicking facilities are provided. (3 miles)

Private camp - 5 miles south of Sattler on the river road. Approximately 1 mile of shoreline is available along with camping and picnicking facilities. (1 mile)

River Road crossing - 6 miles north of New Braunfels. (1 mile)

Private camp - 6 miles north of New Braunfels off the river road. About 1 mile of shoreline is available along with camping and picnicking facilities. (0.1 mile)

Private camp - 5 miles north of New Braunfels. About one-half mile of shoreline is available. Camping and picnicking facilities are provided. (1 mile)

River Road crossing - 4 miles north of New Braunfels. (1 mile)

Private camp - 4 miles north of New Braunfels on the river road. About 1 mile of shoreline provides good access. Camping and picnicking facilities are provided. (1 mile)

River Road crossing - 3 miles north of New Braunfels. (1 mile)

Private camp - 3 miles north of New Braunfels, just downstream from the last river road crossing. (0.1 mile)

Private camp - 2 miles north of New Braunfels at Hueco Springs. (1 mile)

Gruene Crossing - county road between FM 306 and SH 46, 1 mile north of New Braunfels. (3 miles)

SH 46 crossing - located on the northern city limits of New Braunfels. (1 mile)

Cypress Bend Park - A city park in New Braunfels provides 1 mile of shoreline. Camping facilities are available. (1.5 miles)

Comal River - "The shortest river in Texas," enters on the right. This river may be explored for 2.5 miles upstream to Comal Springs. Several private camps are located along the banks. (0.5 mile)

IH 35 crossing - A Texas Parks & Wildlife boat ramp is located beneath Interstate Highway 35 in New Braunfels. (1 mile)